Hotel Angling Records
We are really grateful to George Morrison for access to unique historical records from the Inchnadamph Hotel, which his family ran for much of the 20th century; as well as the Altnecelagach Hotel. We are hoping to digitise more of these unique records. You can access a sample of pages here:
Inchnadamph Hotel 1887-1908 (PDF 12.15MB)
Inchnadamph Hotel 1926 - 1954 (PDF 16.42MB)
Altnacealgach Hotel Samples from 1899-1909 (PDF 5.34MB)
Assynt Angling Club Leaflet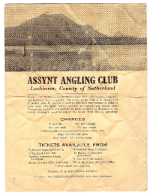 See a scan of a leaflet advertising the lochs which were under control of the Assynt Angling Club from the late 1950s. It is interesting, not only as an historical of what was available at the time - far fewer lochs than today - but also because it contains some names to lochs not listed elsewhere, such as Locahan Roib (Rob's loch).
Download: Assynt Angling Club leaflet (PDF 2.6MB)
Assynt Angling Guides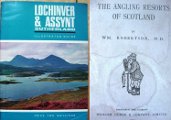 Tourists have come to Assynt to fish for many years. Downloadable here are:
Angling Resorts Guide from 1933 advertising the Culag and Inchnadamph (PDF 0.67MB)
Lochinver and Assynt Guidebook, 1950/60s (PDF 0.26MB)
Maps of Assynt

We have developed our own OS based Interactive Angling Map of Assynt. But many people before us have mapped the area, dating back to the 16th century. Many of these are available for free on the excellent National Library of Scotland website (www.nls.uk). Links to two of the earliest maps are below:
Timothy Pont mapped large areas of Scotland in the 1580s and 1590s.

This included a map of Loch Assynt and surrounding area, available here. Find out about Pont's maps here.
John Home's Survey of Assynt in 1774 was the first detailed study of the area. Home's survey includes 16 intricate and detailed maps of the farms of Assynt along with extensive written descriptions. All of them can be accessed online: